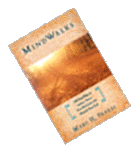 Easy, enjoyable mental exercises and meditations will show you how to use a MindWalk to solve problems, fight stress, enjoy the world around you, manage your moods, and unlock your creativity
Pocket-sized for convenience - Take it with you on your walks! Read what others are saying about MindWalks...
BONUS! When you order directly from us, your purchase includes a copy of My MindWalks Journal: A Record of Discoveries!
$8.95 USD
plus $3 handling
To get your bonus copy of the MindWalks Journal, order here!
MindWalks® With Music
(audiotape)

Audio MindWalks that match words with music created just for this tape
4 separate segments let you control how long and how fast you walk
$9.95 USD
plus $3 handling
My MindWalks® Journal
(blank book with quotes)
A spiral-bound blank book for saving the special things you experience on your own MindWalks
Includes quotations that inspire you to reach your goals
Not available in bookstores - order direct!
$7.95 USD
plus $3 handling